PACKAGE TOUR 4 DAYS 3 NIGHTS [ F ]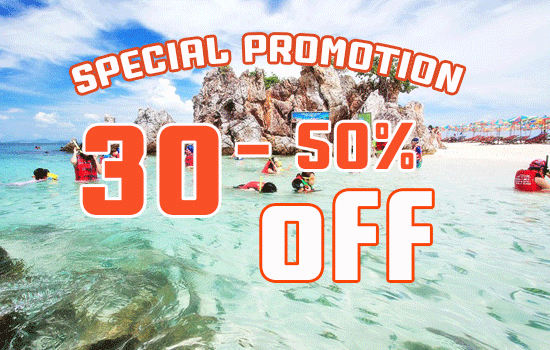 Phuket Tour Package 4 Days 3 Nights [ D ]
Day 1: Transfer from airport to hotel


pick you up from Phuket Airport transfer to check in at hotel of your choose.
Day 2. Phi Phi Island By Cruise

Early breakfast at the hotel.

ITINERARY
| | |
| --- | --- |
| 07.00 | Pick up from your hotel and transfer to Pier |
| 08.30 | Departure from Rassada Pier and experience the cruise out to Phi Phi Island enjoying the facilities on board the ship with complimentary refreshments |
| 10.15 | Arrive Phi Phi Leh sightseeing at Phi Phi Leh Island including Maya Bay where they made the movie the beach, Loh Samah Bay, Pileh Cove and viking cave swimming and snorkelling at Coral Bay time to relax for swimming and snorkelling at Coral Bay around 45minutes |
| 12.30 | Enjoy Lunch at Phi Phi Don Hotel delicous Thai/International buffet lunch and Freetime to enjoy Tonsai Bay to enjoy the shopping on Phi Phi Island or enjoy swimming or snorkelling at Tonsai Bay |
| 14.30 | Boat departs from Tonsai Bay pier for Phuket Complimentary refreshments on board the boat |
| 16.30 | Arrival at pier and Transfer back to your hotel |
| 17.30 | Arrival back at your hotel |
| | Notice : This tour will not include admission fee . For the person don't need to do snorkeling will not pay admision for 400 thb.And then for cleaning island 20 thb , Port fee 30 thb the costumer must pay by your self to thai Grovernment |
Breakfast & Check out from the hotel.
07.15 Am Pick up time
Take you along beautiful beach roads though Patong, Karon, Kata Beache.
* Visit to Karon viewpoint
* Visit Bigest Buddha on top of the mountain
* Visit to Wat Chalong temple.
* Take a Picture with Small elephant
* Visit to Cashew Nut factory and shopping for local products.
* Visit to Pearl factory for coffee Break
* Visit to Big Bee Farm.
Day 5. After breakfast 12.00 Pm Check out send you to Airport
The Hotel for your choose
Low Season (From 1 April to 31 October)
Package tour
4 Days 3 Nights
Form 1 April to 31 October 2019
Superior room 3 nights with breakfast

-Round trip Transfer Airport to Hotel
-Phi Phi Island by Cruise

- Phuket City tour

Option tour for your choice [ not forcing ]
1. Fantasea show + dinner +transfer pay more 2,100 thb per person
2. Siam Niramit show Platinum pay more 1,650 thb per person
PRICE 7,200 THB FOR 2 PAX
ASHLEE PLAZA PATONG
Package tour
4 Days 3 Nights
Form 1 April to 31 October 2019
Superior room 3 nights with breakfast

-Round trip Transfer Airport to Hotel
-Phi Phi Island by Cruise

- Phuket City tour

Option tour for your choice [ not forcing ]
1. Fantasea show + dinner +transfer pay more 2,100 thb per person
2. Siam Niramit show Platinum pay more 1,650 thb per person
PRICE 7,500 THB FOR 2 PAX
Di pantai boutique
Package tour
4 Days 3 Nights
Form 1 April to 31 October 2019
Superior room 3 nights with breakfast

-Round trip Transfer Airport to Hotel
-Phi Phi Island by Cruise

- Phuket City tour

Option tour for your choice [ not forcing ]
1. Fantasea show + dinner +transfer pay more 2,100 thb per person
2. Siam Niramit show Platinum pay more 1,650 thb per person

PRICE 7,200 THB FOR 2 PAX
Baumanburi Hotel 4 star
Package tour
4 Days 3 Nights
Form 1 April to 31 October 2019
Superior room 3 nights with breakfast

-Round trip Transfer Airport to Hotel
-Phi Phi Island by Cruise

- Phuket City tour

Option tour for your choice [ not forcing ]
1. Fantasea show + dinner +transfer pay more 2,100 thb per person
2. Siam Niramit show Platinum pay more 1,650 thb per person

PRICE 8,400 THB FOR 2 PAX
Bauman residence Hotel
4 STAR****
Package tour
4 Days 3 Nights
Form 1 April to 31 October 2019
Superior room 3 nights with breakfast

-Round trip Transfer Airport to Hotel
-Phi Phi Island by Cruise

- Phuket City tour

Option tour for your choice [ not forcing ]
1. Fantasea show + dinner +transfer pay more 2,100 thb per person
2. Siam Niramit show Platinum pay more 1,650 thb per person

PRICE 9,300 THB FOR 2 PAX
Blue Ocean Resort 4 star
4 Days 3 Nights
Form 1 April to 31 October 2019
Superior room 3 nights with breakfast

-Round trip Transfer Airport to Hotel
-Phi Phi Island by Cruise

- Phuket City tour

Option tour for your choice [ not forcing ]
1. Fantasea show + dinner +transfer pay more 2,100 thb per person
2. Siam Niramit show Platinum pay more 1,650 thb per person


Price with breakfast 7,300 THB for 2 pax
Price with out breakfast 8,400 THB for 2 pax

TONY RESORT PATONG
Package tour
4 Days 3 Nights
Form 1 April to 31 October 2019
Superior room 3 nights with breakfast

-Round trip Transfer Airport to Hotel
-Phi Phi Island by Cruise

- Phuket City tour

Option tour for your choice [ not forcing ]
1. Fantasea show + dinner +transfer pay more 2,100 thb per person
2. Siam Niramit show Platinum pay more 1,650 thb per person

PRICE 8,100 THB FOR 2 PAX


Patong Holiday
Package tour
4 Days 3 Nights
Form 1 April to 31 October 2019
Superior room 3 nights with breakfast

-Round trip Transfer Airport to Hotel
-Phi Phi Island by Cruise

- Phuket City tour

Option tour for your choice [ not forcing ]
1. Fantasea show + dinner +transfer pay more 2,100 thb per person
2. Siam Niramit show Platinum pay more 1,650 thb per person

PRICE 6,900 THB FOR 2 PAX
Shanaya Beach Resort & Spa 4 Star

Package tour
4 Days 3 Nights
Form 1 April to 31 October 2019
Superior room 3 nights with breakfast

-Round trip Transfer Airport to Hotel
-Phi Phi Island by Cruise

- Phuket City tour

Option tour for your choice [ not forcing ]
1. Fantasea show + dinner +transfer pay more 2,100 thb per person
2. Siam Niramit show Platinum pay more 1,650 thb per person
PRICE 8,100 THB FOR 2 PAX
ROYAL PARADISE RESORT
Package tour
4 Days 3 Nights
Form 1 April to 31 October 2019
Superior room 3 nights with breakfast

-Round trip Transfer Airport to Hotel
-Phi Phi Island by Cruise

- Phuket City tour

Option tour for your choice [ not forcing ]
1. Fantasea show + dinner +transfer pay more 2,100 thb per person
2. Siam Niramit show Platinum pay more 1,650 thb per person

PRICE 9,900 THB FOR 2 PAX
La Vintage Resort


Package tour
4 Days 3 Nights
Form 1 April to 31 October 2019
Superior room 3 nights with breakfast

-Round trip Transfer Airport to Hotel
-Phi Phi Island by Cruise

- Phuket City tour

Option tour for your choice [ not forcing ]
1. Fantasea show + dinner +transfer pay more 2,100 thb per person
2. Siam Niramit show Platinum pay more 1,650 thb per person

PRICE 7,500 THB FOR 2 PAX
Zenseana resort & spa/4 Star****
Package tour
4 Days 3 Nights
Form 1 April to 31 October 2019
Superior room 3 nights with breakfast

-Round trip Transfer Airport to Hotel
-Phi Phi Island by Cruise

- Phuket City tour

Option tour for your choice [ not forcing ]
1. Fantasea show + dinner +transfer pay more 2,100 thb per person
2. Siam Niramit show Platinum pay more 1,650 thb per person

PRICE 9,300 THB FOR 2 PAX
Andaman beach suit
Package tour
4 Days 3 Nights
Form 1 April to 31 October 2019
Superior room 3 nights with breakfast

-Round trip Transfer Airport to Hotel
-Phi Phi Island by Cruise

- Phuket City tour

Option tour for your choice [ not forcing ]
1. Fantasea show + dinner +transfer pay more 2,100 thb per person
2. Siam Niramit show Platinum pay more 1,650 thb per person

PRICE 9,600 THB FOR 2 PAX
Hotel Grand Kata VIP
Package tour
4 Days 3 Nights
Form 1 April to 31 October 2019
Superior room 3 nights with breakfast

-Round trip Transfer Airport to Hotel
-Phi Phi Island by Cruise

- Phuket City tour

Option tour for your choice [ not forcing ]
1. Fantasea show + dinner +transfer pay more 2,100 thb per person
2. Siam Niramit show Platinum pay more 1,650 thb per person

PRICE 9,900 THB FOR 2 PAX
PJ Patong Resortel
Package tour
4 Days 3 Nights
Form 1 April to 31 October 2019
Superior room 3 nights with breakfast

-Round trip Transfer Airport to Hotel
-Phi Phi Island by Cruise

- Phuket City tour

Option tour for your choice [ not forcing ]
1. Fantasea show + dinner +transfer pay more 2,100 thb per person
2. Siam Niramit show Platinum pay more 1,650 thb per person

PRICE 6,900 THB FOR 2 PAX
The grand southsea

Package tour
4 Days 3 Nights
Form 1 April to 31 October 2019
Superior room 3 nights with breakfast

-Round trip Transfer Airport to Hotel
-Phi Phi Island by Cruise

- Phuket City tour

Option tour for your choice [ not forcing ]
1. Fantasea show + dinner +transfer pay more 2,100 thb per person
2. Siam Niramit show Platinum pay more 1,650 thb per person

PRICE 8,700 THB FOR 2 PAX
Package tour
4 Days 3 Nights
Form 1 April to 31 October 2019
Superior room 3 nights with breakfast

-Round trip Transfer Airport to Hotel
-Phi Phi Island by Cruise

- Phuket City tour

Option tour for your choice [ not forcing ]
1. Fantasea show + dinner +transfer pay more 2,100 thb per person
2. Siam Niramit show Platinum pay more 1,650 thb per person

PRICE 8,700 THB FOR 2 PAX
This price included round trip transfer by car or minivan as your arrival flight and departure flight

This price included 1 room for 2 people for 5 days and 4 nights with daily breakfast. If you book for 3 people, you will get 1 room with 1 extra bed for 3 people per room

The package depends on each hotel as above details. This price is Now – 23 DEcember 2018

11 years old is adult rate and age below 11-4 years old is child rate. For below 4 years old is free of charge (the taller is not over 100 cms)

This above price is allowed for 2 people per booking up. The price is Thai Baht.

Please book in advance at least 10 days before the travelling date.

When we got your booking, we will send the e-mail for confirmation with payment deposit

When we get your payment and then we will send receipt voucher on the payment date

The balance, you will pay cash or credit card (If you would like to pay credit card, we will be additional charge 4% on top of the total amount.)