PACKAGE TOUR 5 DAYS 4 NIGHTS [ C ]
Phuket Tour Package 5 Days 4 Nights [ C ]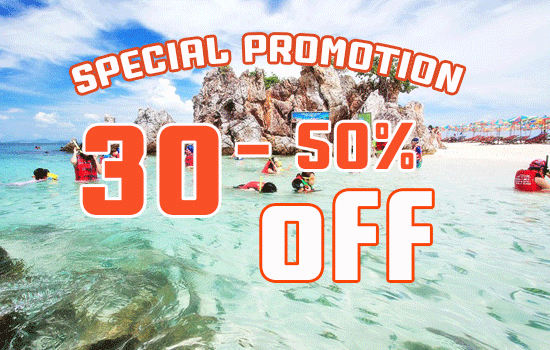 Day 1: Transfer from airport to hotel
Pick you up from Phuket Airport transfer to check in at hotel of your choice.
Day 2. Early breakfast at the hotel.
4 Island Krabi Day tour
The times and order of activities are approximate and for guideline only.

07.00

Pick-up from your hotel.

08.30

Depart from Rassada Harbor to Nopparat Thara Pier by big boat.

10.30

Arrive at Nopparat Thara Pier and change to speed boat.

Relax on the white sand bank linking Tap Island and Mor Island.

Enjoy snorkeling among coral reefs and fishes outside Chicken Island.

12.30

Lunch at Chicken Island.

Sunbathing at Poda Island.

Visit Phra Nang Beach and explore Phra Nang Cave.

15.15

Depart from Krabi to Phuket by big boat.

17.30

Arrive at Rassada Harbor and transfer to your hotel.
Day 3. Early breakfast at the hotel.

White Water Rafting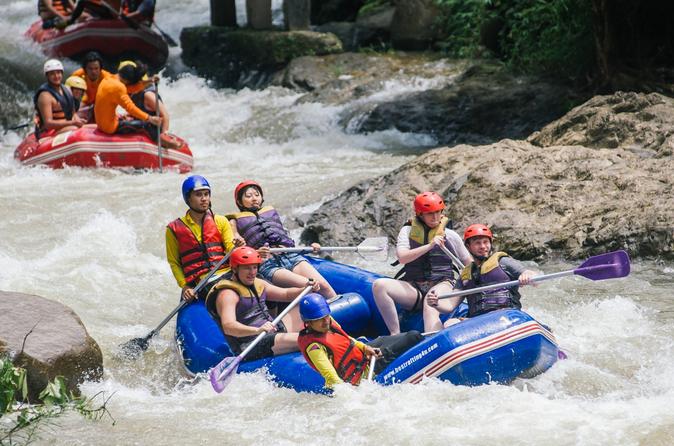 07.45 Am

Pick up by air conditioned minibus from your hotel.

Stop at Monkey Cave/Suwnkuha Temple.

Activity briefing and rafting training by highly experienced staff.

White Water Rafting 5km

A delicous riverside Lunch followed by Fresh fruits tea and coffee.

ATV 30 minutes in the Jungle.

Elephant trekking in the rainforest 30 Minutes.

Exciting Flying Fox Adventure 150 metres Zip Cable.

Water fall for Swimming

16.00 Pm

Transfer back to Hotel
Breakfast & Check out from the hotel.
07.15 Am Pick up time
Take you along beautiful beach roads though Patong, Karon, Kata Beache.
* Visit to Karon viewpoint
* Visit Bigest Buddha on top of the mountain
* Visit to Wat Chalong temple.
* Take a Picture with Small elephant
* Visit to Cashew Nut factory and shopping for local products.
* Visit to Pearl factory for coffee Break
* Visit to Big Bee Farm.
Day 5. After breakfast 12.00 Pm Check out send to Airport
The Hotel for your choice
Package tour
5 Days 4 Nights

Form 1 April to 31 October 2019

Superior room 4 nights with breakfast

-Round trip Transfer Airport to Hotel

- 4 Island Krabi Day Tour

- White water Rafting tour

- Phuket CiTy Tour




PRICE 11,900 THB FOR 2 PAX
ASHLEE PLAZA PATONG
Package tour
5 Days 4 Nights

Form 1 April to 31 October 2019

Superior room 4 nights with breakfast

-Round trip Transfer Airport to Hotel

- 4 Island Krabi Day Tour

- White water Rafting tour

- Phuket CiTy Tour




PRICE 12,300 THB FOR 2 PAX



Di pantai boutique
Package tour
5 Days 4 Nights
Form 1 April to 31 October 2019
Superior room 4 nights with breakfast

-Round trip Transfer Airport to Hotel
- 4 Island Krabi Day Tour

- White water Rafting tour

- Phuket CiTy Tour


PRICE 11,700 THB FOR 2 PAX

Baumanburi Hotel 4 star
Package tour
5 Days 4 Nights
Form 1 April to 31 October 2019
Superior room 4 nights with breakfast

-Round trip Transfer Airport to Hotel
- 4 Island Krabi Day Tour

- White water Rafting tour

- Phuket CiTy Tour


PRICE 13,500 THB FOR 2 PAX
Bauman residence Hotel
4 STAR****
Package tour
5 Days 4 Nights
Form 1 April to 31 October 2019
Superior room 4 nights with breakfast

-Round trip Transfer Airport to Hotel
- 4 Island Krabi Day Tour

- White water Rafting tour


- Phuket CiTy Tour

PRICE 15,300 THB FOR 2 PAX
Blue Ocean Resort 4 star
Package tour
5 Days 4 Nights
Form 1 April to 31 October 2019
Superior room 4 nights with out breakfast

-Round trip Transfer Airport to Hotel
- 4 Island Krabi Day Tour

- White water Rafting tour

- Phuket CiTy Tour


PRICE 11,900 THB FOR 2 PAX with Breakfast
PRICE 13,500 THB FOR 2 PAX with Breakfast

TONY RESORT PATONG
Package tour
5 Days 4 Nights
Form 1 April to 31 October 2019
Superior room 4 nights with breakfast

-Round trip Transfer Airport to Hotel
- 4 Island Krabi Day Tour

- White water Rafting tour

- Phuket CiTy Tour


PRICE 13,100 THB FOR 2 PAX


Patong Holiday
Package tour
5 Days 4 Nights
Form 1 April to 31 October 2019
Superior room 4 nights with breakfast

-Round trip Transfer Airport to Hotel
- 4 Island Krabi Day Tour

- White water Rafting tour

- Phuket CiTy Tour


PRICE 11,500 THB FOR 2 PAX
Seaview Patong 4.5 Star

Package tour
5 Days 4 Nights
Form 1 April to 31 October 2019
Superior room 4 nights with breakfast

-Round trip Transfer Airport to Hotel
- 4 Island Krabi Day Tour

- White water Rafting tour

- Phuket CiTy Tour



PRICE - THB FOR 2 PAX
ROYAL PARADISE RESORT
Package tour
5 Days 4 Nights
Form 1 April to 31 October 2019
Superior room 4 nights with breakfast

-Round trip Transfer Airport to Hotel
- 4 Island Krabi Day Tour

- White water Rafting tour

- Phuket CiTy Tour


PRICE 15,500 THB FOR 2 PAX
The Luana Patong Hotel


Package tour
5 Days 4 Nights
Form 1 April to 31 October 2019
Superior room 4 nights with breakfast

-Round trip Transfer Airport to Hotel
- 4 Island Krabi Day Tour

- White water Rafting tour

- Phuket CiTy Tour


PRICE 15,500 THB FOR 2 PAX


Poppa Palace Patong
Package tour
5 Days 4 Nights
Form 1 April to 31 October 2019
Superior room 4 nights with breakfast

-Round trip Transfer Airport to Hotel
- 4 Island Krabi Day Tour

- White water Rafting tour

- Phuket CiTy Tour


PRICE 12,300 THB FOR 2 PAX
Andaman beach suit
Package tour
5 Days 4 Nights
Form 1 April to 31 October 2019
Superior room 4 nights with breakfast

-Round trip Transfer Airport to Hotel
- 4 Island Krabi Day Tour

- White water Rafting tour

- Phuket CiTy Tour


PRICE 15,700 THB FOR 2 PAX
This price included round trip transfer by car or minivan as your arrival flight and departure flight

This price included 1 room for 2 people for 5 days and 4 nights with daily breakfast. If you book for 3 people, you will get 1 room with 1 extra bed for 3 people per room

The package depends on each hotel as above details. This price is Now – 23 DEcember 2018

11 years old is adult rate and age below 11-4 years old is child rate. For below 4 years old is free of charge (the taller is not over 100 cms)

This above price is allowed for 2 people per booking up. The price is Thai Baht.

Please book in advance at least 10 days before the travelling date.

When we got your booking, we will send the e-mail for confirmation with payment deposit

When we get your payment and then we will send receipt voucher on the payment date

The balance, you will pay cash or credit card (If you would like to pay credit card, we will be additional charge 4% on top of the total amount.)