Package Tour
Phuket Tour Package 5 Days 4 Nights [ A ]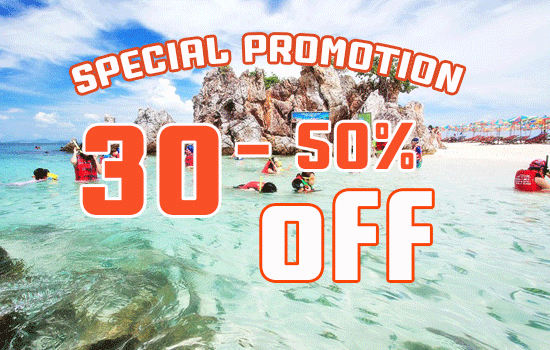 Day 1: Transfer from airport to hotel
Pick you up from Phuket Airport transfer to check in at hotel of your choice.
Day 2.

Early breakfast at the hotel.
07.30 Am.Pick up form Hotel to The Private pier
- Arrival at the pier the tour guide will brifing and served by tea or coffee , fruit ,fruit juice , bread
-Go a head to Green Island for snorkeling which filled with coral and a lot of small fish / 30-45 Minutes
-After snorkeling at Green island go to Phi Phi Don for Lunch time at Phi Phi crif beach Hotel by Buffet . after lunch will take a relax swimming at the beach and shopping / 1 hour-1.30 Hour
- After Phi Phi Don go to Khai nai island for snorkeling and enjoy with coral and a lot of small fish
-After Khai island back to the Pier and sent you back to the hotel .
Day 03: James Bond island canoeing tour By Big Boat

Intinerary
07.30

Pick up from hotel and transfer to Ao Por Pier.

09.30

Arrive Koh Panak. Proceeding Sea Canoeing with the wonderful scenery at several caves and lagoons of Koh Panak : Bat cave, Mangrove cave, Mud cave, Ice Cream cave, Shell cave and Pirate cave. (Number of caves is up to the level of water and the averaged time exploring for each cave: 30 minutes)

Boat leaves from Koh Panak to Koh Hong or Room Island which you can explore by canoeing the stalactite and stalacmite which is happended by natural phenomenon, situated around 3 lagoons called Toilet Room, Living Room and Honeymoon Room.[ : Buffet lunch on board and go to visit James Bond Island and Khao Ping Kan.]

15.00

Swimming and relaxing at Nakare lsland.

16.30 - 17.30

Back to Ao Por Pier and transfer to Hotel.

Day 04: RaYa + Coral Island full day for snorkelling
08.00 am Pick up from your hotel and transfer to chalong pier
09.00 am : Departure from Chalong Pie
r to Coral Island where you will be able to enjoy snorkelling in the crystal clear waters rexlax on the white sandy beach or enjoy many of the water sports available on this Island ( 3-3.5 Hours Free time to enjoy and fun this most beautiful Island you will never seen)
12.00 pm : Enjoy a delicous buffet Lunch on the coral island
13.00 pm : Departure from Coral Island to Raya Island
13.20 pm : Arrival at Raya Island visit the famous Siam Bay Kon Kae Bay snorkelling time see the amazing Coral reefs and colorful Fishes and time to relax on the beach and enjoy this most beautiful Island 3 Hours Free Time to enjoy this stunning Island
16.30 pm : Departure from Raya Island and Speedboat back to Chalong pier
17.30 pm : Arrival back at your hotel
Day 5. After breakfast / 12.00 Pm Check out and send to Airport
Low Season (From 1 April to 31 October)
Package tour
5 Days 4 Nights
Form 1 April to 31 October 2019
Superior room 4 nights with breakfast

-Round trip Transfer Airport to Hotel
-Phi Phi Island by Speed Boat

-James bond by big boat with canoe
-RaYa & Coral Island



PRICE 11,600 THB FOR 2 PAX
ASHLEE PLAZA PATONG
Package tour
5 Days 4 Nights
Form 1 April to 31 October 2019
Superior room 4 nights with breakfast

-Round trip Transfer Airport to Hotel
-Phi Phi Island by Speed Boat

-James bond by big boat with canoe
-RaYa & Coral Island

-Phuket City Tour



PRICE 11,600 THB FOR 2 PAX
Di pantai boutique
Package tour
5 Days 4 Nights
Form 01 April to 31 October 2019
Superior room 4 nights with breakfast

-Round trip Transfer Airport to Hotel
-Phi Phi Island by Speed Boat

-James bond by big boat with canoe
-RaYa & Coral Island


PRICE 11,200 THB FOR 2 PAX


Baumanburi Hotel 4 star
Package tour
5 Days 4 Nights
Form 01 April to 31 October 2019
Superior room 4 nights with breakfast

-Round trip Transfer Airport to Hotel
-Phi Phi Island by Speed Boat

-James bond by big boat with canoe

-RaYa & Coral Island

PRICE 13,200 THB FOR 2 PAX
Bauman residence Hotel
4 STAR****
Package tour
5 Days 4 Nights
Form 01 April to 31 October 2019
Superior room 4 nights with breakfast

-Round trip Transfer Airport to Hotel
-Phi Phi Island by Speed Boat

-James bond by big boat with canoe

-RaYa & Coral Island

PRICE 14,400 THB FOR 2 PAX
Blue Ocean Resort 4 star
Package tour
5 Days 4 Nights
Form 1 April to 31 October 2019
Standard room 4 nights

-Round trip Transfer Airport to Hotel
-Phi Phi Island by Speed Boat

-James bond by big boat with canoe

-RaYa & Coral Island


Price with breakfast 13,000 THB for 2 pax
Price with out breakfast 11,600 THB for 2 pax

TONY RESORT PATONG
Package tour
5 Days 4 Nights
Form 01 April to 31 October 2019
Superior room 4 nights with breakfast

-Round trip Transfer Airport to Hotel
-Phi Phi Island by Speed Boat

-James bond by big boat with canoe

-RaYa & Coral Island

PRICE 12,800 THB FOR 2 PAX


Patong Holiday
Package tour
5 Days 4 Nights
Form 01 April to 31 October 2019
Superior room 4 nights with breakfast

-Round trip Transfer Airport to Hotel
-Phi Phi Island by Speed Boat

-James bond by big boat with canoe

-RaYa & Coral Island

PRICE 11,200 THB FOR 2 PAX
Shanaya Beach Resort & Spa 4 Star

Package tour
5 Days 4 Nights
Form 01 April to 31 October 2019
Superior room 4 nights with breakfast

-Round trip Transfer Airport to Hotel
-Phi Phi Island by Speed Boat

-James bond by big boat with canoe

-RaYa & Coral Island

PRICE 12,800 THB FOR 2 PAX


ROYAL PARADISE RESORT
Package tour
5 Days 4 Nights
Form 1 April to 31 October 2019
Standard room 4 nights with breakfast

-Round trip Transfer Airport to Hotel
-Phi Phi Island by Speed Boat

-James bond by big boat with canoe

-RaYa & Coral Island


PRICE 15,200 THB FOR 2 PAX
La Vintage

Resort

Package tour
5 Days 4 Nights
Form 1 April to 31 October 2019
Standard room 4 nights with breakfast

-Round trip Transfer Airport to Hotel
-Phi Phi Island by Speed Boat

-James bond by big boat with canoe

-RaYa & Coral Island

PRICE 11,600 THB FOR 2 PAX
Zenseana resort & spa/4 Star****
Package tour
5 Days 4 Nights
Form 1 April to 31 October 2019
Standard room 4 nights with breakfast

-Round trip Transfer Airport to Hotel
-Phi Phi Island by Speed Boat

-James bond by big boat with canoe

-RaYa & Coral Island

PRICE 14,200 THB FOR 2 PAX
Andaman beach suit
Package tour
5 Days 4 Nights
Form 1 April to 31 October 2019
Standard room 4 nights with breakfast

-Round trip Transfer Airport to Hotel
-Phi Phi Island by Speed Boat

-James bond by big boat with canoe

-RaYa & Coral Island

PRICE 14,200 THB FOR 2 PAX
Hotel Grand Kata VIP

Package tour
5 Days 4 Nights
Form 1 April to 31 October 2019
Standard room 4 nights with breakfast

-Round trip Transfer Airport to Hotel
-Phi Phi Island by Speed Boat

-James bond by big boat with canoe

-RaYa & Coral Island

PRICE 14,400 THB FOR 2 PAX
PJ Patong Resortel
5 Days 4 Nights
Form 1 April to 31 October 2019
Standard room 4 nights with breakfast

-Round trip Transfer Airport to Hotel
-Phi Phi Island by Speed Boat

-James bond by big boat with canoe

-RaYa & Coral Island

PRICE 11,200 THB FOR 2 PAX
The grand southsea
Package tour
5 Days 4 Nights
Form 1 April to 31 October 2019
Superior room 4 nights with breakfast

-Round trip Transfer Airport to Hotel
-Phi Phi Island by Speed Boat

-James bond by big boat with canoe
-RaYa & Coral Island



PRICE 13,600 THB FOR 2 PAX
Package tour
5 Days 4 Nights
Form 1 April to 31 October 2019
Superior room 4 nights with breakfast

-Round trip Transfer Airport to Hotel
-Phi Phi Island by Speed Boat

-James bond by big boat with canoe
-RaYa & Coral Island



PRICE 13,400 THB FOR 2 PAX
The Bay Exclusive Hotel
Package tour
5 Days 4 Nights
Form 1 April to 31 October 2019
Superior room 4 nights with breakfast

-Round trip Transfer Airport to Hotel
-Phi Phi Island by Speed Boat

-James bond by big boat with canoe
-RaYa & Coral Island



PRICE 12,200 THB FOR 2 PAX
This price included round trip transfer by car or minivan as your arrival flight and departure flight

This price included 1 room for 2 people for 5 days and 4 nights with daily breakfast. If you book for 3 people, you will get 1 room with 1 extra bed for 3 people per room

The package depends on each hotel as above details. This price is Now – 23 DEcember 2018

11 years old is adult rate and age below 11-4 years old is child rate. For below 4 years old is free of charge (the taller is not over 100 cms)

This above price is allowed for 2 people per booking up. The price is Thai Baht.

Please book in advance at least 10 days before the travelling date.

When we got your booking, we will send the e-mail for confirmation with payment deposit

When we get your payment and then we will send receipt voucher on the payment date

The balance, you will pay cash or credit card (If you would like to pay credit card, we will be additional charge 4% on top of the total amount.)