Aquaria Phuket & Trick Eye Ticket
Aquaria Phuket & Trick Eye Ticket
Phuket Trickeye Museum
Phuket Trickeye 3D Museum offers the opportunity to engage and interact with modern installation art truth its permanent collection and temporary exhibitions that stimulate creativity and imagination
Trickeye museum is an interactive museum with a concept that stimulates your creativity and imagination by the TROMPEL'OEIL technique through your vision. The time has come when you can enter the picture, which you used to only watch and become a part of the picture yourself!
You are invited to the world of various masterpieces and wonderful three-dimensional pictures.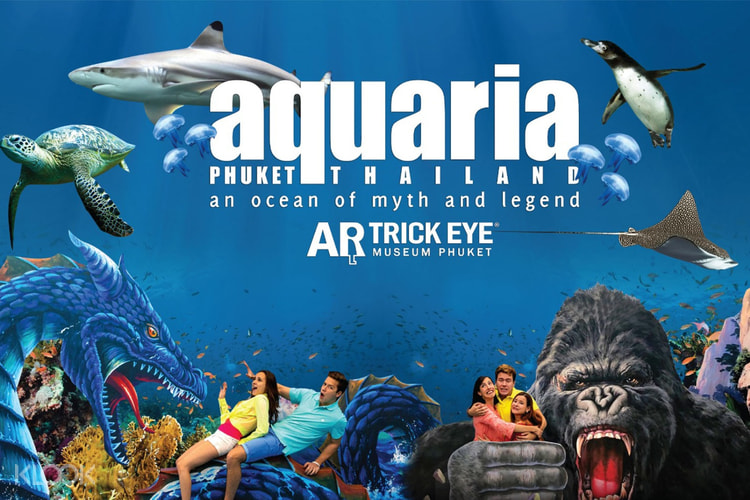 Aquaria Phuket is the biggest aquarium in Thailand located in the heart of the city, beneath Central Phuket Floresta. A magical underwater journey that takes you through the wonders of the ocean and the mysteries of the rivers.
Be entertained and inspired by over 25,000 animals and interact with our knowledgeable and friendly staff to learn more about the wonders of the ocean.
With its tagline "An Ocean of Myth and Legend", Aquaria Phuket takes visitors on a special journey from the mystical Himmapan Forest to the deepest oceans, featuring elements from Thai mythology and culture. The aquarium is located in Central Phuket Floresta and covers 104,000 square feet (9,662 square meters).
Once inside, travel through 8 interactive zones. Explore a land filled with creatures from Thai folklore in the Mystic Forest, and discover other living legends — such as the arapaima (pirarucu), the Mekong ray, the Mekong giant catfish, and more — at the River Giants exhibit, which features the world's largest freshwater planted tank.
Watch playful otters at the River Caves, and meet adorable penguins up close at the Coastal Haven. At Station Aquarius, enjoy an interactive and educational encounter with some of the aquarium's inhabitants. Knowledgeable staff are on hand to interact with and to answer your questions. You can also visit the largest underwater lounge in the world, Andasi, from 8 AM-12 PM.
Aquaria Phuket also features Trick Eye Museum, the world's first augmented reality (AR) art museum featuring optical illusions and incredible panoramas to amaze you. As the world's first AR museum, it utilizes the latest in AR technology to produce realistic art and photos that will transport you to other worlds.
| | | |
| --- | --- | --- |
| Trick eye +Aquaria Phuket + Transfer* (SIC) Adult | 2,000.THB | 950.THB |
| Trick eye +Aquaria Phuket + Transfer* (SIC) Child (90-120 cm) | 1,750.THB | 750 THB |